Editor's Note:
This post's swimsuits were updated in
April 2013.
By the by,
Swim4All
is offering
Take 20-40% off our Sale category with code SAS20 at swimsuitsforall.com
on swimsuits through May 12, 2013.
It's February and that means
every
one is thinking about swimsuits, right? Well, men are, anyway, because the
Sports Illustrated
swimsuit issue is out. Swimsuits have been on my radar because they're already in the stores! I guess some women are shopping for swimsuits because they're taking a cruise or flight to some tropical paradise--lucky them! From what I've seen so far, there are lots of flattering 2013 swimsuit designs--perfect for women over 50.
I wish I could show
Flattering50
readers swimsuits on bathing beauties over 50, but I'm just not seeing any. I hope my readers won't be offended if I show my favorite 2013 styles on younger women with--more or less--realistic body shapes. Click on any of the photos for details, including body and cup sizes. There tends to be a range of sizes, from XSmall through Plus sizes, for most designs. I've also tried to include some swimsuits that are on sale, like the
Delta Burke Skyline Tank Swimsuit
($109) above. Or...
scroll all the way down for a list of other swimsuit shopping websites.
PRETTY IN PRINTS
What are this year's swimsuit hottest trends? Pretty much the same as the trends for street clothes--rich colors and prints. In fact, you'll find just about every conceivable prints--stripes, polka dots, color blocks, confetti, tribal, graphic, graffiti, and of course, floral. The ruching on this
Longitude Cheating Cheetah Plus Size Squared Neck Swimsuit
(was $99, now
$89)
slims and conceals the tummy.
Here's a pretty floral print from
Land's End.
Right now, at
Land's End
Shop for Mom and save 40% off one item. Plus take advantage of free shipping over $50. Find the perfect gift today!
Hurry! Sale ends May 8, 2013.
Women's Regular Floral Keyhole One Piece Slender Suit - Black Floral
($129)
SWIMDRESSES
Personally, I'm loving all the swimdresses I'm seeing. For instance, the
LongitudeTurquoise Carnaby Plus Size Lingerie Swimdress
(was $101, now
$99.99
) below. The look is retro, which is another "hot" swimsuit trend this season.
And, of course, there are plenty of animal prints. I like this sarong style in this
Beach Belle Gold Feathery Animal Plus Size Princess Swimdress
(was $68,
now $39.99
)
Or how about a solid swimdress like this one from
Land's End
...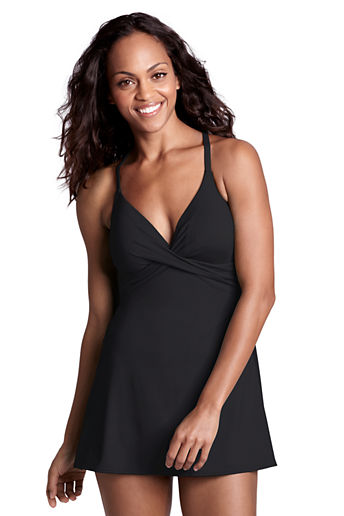 Women's Regular Beach Living Swimdress - Black, 12
($89) in Regular, Petite, Long and Plus Sizes.
TIME TO TRIM
Swimsuit makers are always looking for fabrics that will help control and smooth a woman's shape. Land's End offers two ways to control those little lumps and bumps. The first is tummy control swimsuits, like this
Women's Plus Size Lela Beach V-neck One Piece Swimsuit with Tummy Control - Dark Taupe, 26W
($109)
The second way is with Land's End's new "Shape and Enhance" technology. Women over 50 have the choice of either wearing "shape and enhance" swim tops
and
bottoms, or just one or the other. Here's what the tops and bottoms look like. Or, if you just need bottom control, you can pair one of Land's End's many,
many
tankinis with the "shape and enhance" bottom. They come in a bunch of different colors.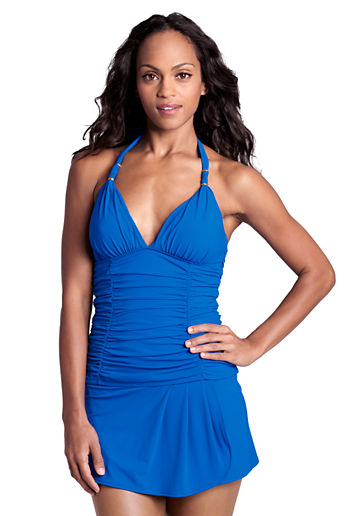 Women's Regular Shape & Enhance Halter Tankini Top - Bright Cobalt Blue, 10
($89)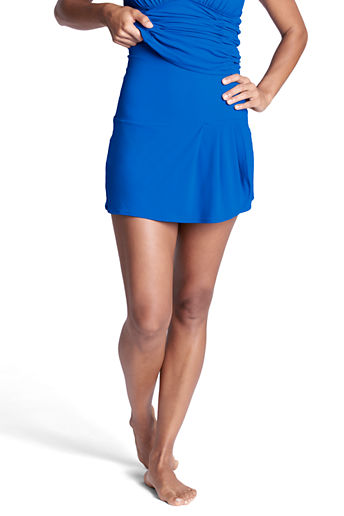 Women's Regular Shape & Enhance Ultra High Rise SwimMini - Bright Cobalt Blue, 16
($89)
THANKS FOR THE TANKINI
My favorite suit in recent years is a Land's End tankini and matching skirt. I'm a reluctant swimsuit wearer (to put it mildy!) and the tankini and skirt satisfies my need for comfort and coverage. Here's a
Women's Plus Size DD-cup Beach Living Floral Paisley Underwire Tankini Top - Deep Sea/Turquoise Blue, 26W
($79). This suit comes in Plus sizes as well as sizes to fit DD and DDD. Click the text or photo for details and to see a choice of bottoms to go with the tankini.
WHERE TO SHOP ONLINE
I've bought my last three swimsuits online. At this point, I can't imagine ever going back into a store dressing room, trying on swimsuits under hideous fluorescent lighting, surrounded by mirrors exposing my every over 50 lump and bump. What a nightmare!
Here's my list of swimsuit websites. When it comes to swimwear, I don't thing it's wise to skimp. Between the sun, surf and soap, swimsuits take a lot of abuse. They've got to be comfortable and well made.
Bloomingdale's
swimsuits range in price from $100-$225.
Calvin Klein
has a few reasonably priced black one-pieces.
L.L Bean
actually has a bunch of stylish (always a pleasant surprise) swimsuits. There are a few swim dresses as well as "slimming" designs that offer "shaping and control."
Macy's
has lots of one-piece suits and
tankinis.

Nordstrom
tries to help women narrow the choices according to body shape and style. The collection includes one-pieces, tankinis and
skirted suits.

Saks Fifth Avenue
suits range from about $125-500. There's a nice selection of one-piece suits, some with ruffle skirts. No tankinis.
WANT MORE?
If so, take a peek at the swimsuits featured in...
Style Over 50: 2013 Swimsuit Trends